The posters below, presented by CECS Co-Director Roger Bales, Co-PI Martha Conklin, and colleague Christine Ma, at the "Forests in Flux: How Science Can Inform Policy" event in Fall 2019. These posters describe:
The effects of thinning treatments on forest water use and watershed health;
The effects of wildfire on forest water balance; and
The predictions of drought resilience and vulnerability.
Click the images to enlarge.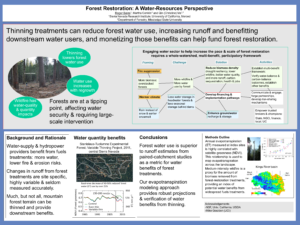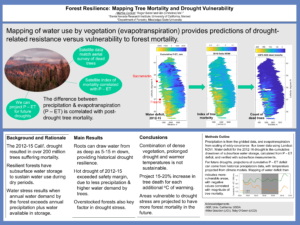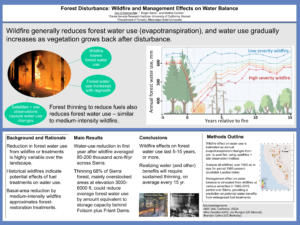 Wildfire and Drought – 6th Grade Level Lesson
UC Irvine graduate students and CECS researchers Shane Coffield and Nicole Hemming-Schroeder delivered this interactive lesson on drought and wildfire to 6th graders at MacArthur Fundamental Intermediate School in Santa Ana, CA, in spring of 2021. This lesson was part of their work with CLEAN Education, a nonprofit founded and run by UCI graduate students. 
Economic Drivers of Sustainable Forest Management Matter for California's Headwaters
CECS Co-Director Roger Bales, PhD, gave this talk at the Association of California Water Agencies (ACWA) Region 3 virtual event on October 20, 2020.
---
Geography and Climate Webinar for Students and Young Professionals
Given by CECS Co-Director Roger Bales of UC Merced in August 2020. Webinar hosted by the California Water Environment Association. 
California's Mediterranean climate and heterogeneous geography combine to create both opportunities and challenges for its ecosystems and the people that live in and depend on them. This webinar:
Examines the temperature and precipitation patterns that define the state's climate
Explores how the steep gradients in the Sierra Nevada shape our water resources
Assesses how past droughts inform future water-security challenges
Projects how important source-water areas will respond as climate continues to warm
Considers how the state's water balance is changing
---
"Predicting mountain-ecosystem response to disturbance through scaling subsurface water-storage capacity"
Click here to listen to the talk by CECS Co-Director Roger Bales of UC Merced, given in April 2020.
Presentation overview: The historical, widespread forest disturbance by wildfire and drought-induced tree mortality in the Sierra Nevada is accompanied by changes in the partitioning of precipitation between evapotranspiration and runoff. We use assessments of these historical evapotranspiration to project changes in water balance from forest management, and to assess forest vulnerability to drought. We determined annual spatial patterns of evapotranspiration using a top-down statistical model, correlating measured annual evapotranspiration from eddy-covariance towers across California with NDVI (Normalized Difference Vegetation Index) measured by satellite, and with annual precipitation. The study area was the Yuba and American River watersheds, two densely forested watersheds in the northern Sierra Nevada. Wildfires resulted in significant post-fire reductions in evapotranspiration for at least 5 years (as much 150-200 mm yr-1), and in some cases for more than 20 years. Rates of recovery in post-wildfire evapotranspiration confirm the need for follow-up forest treatments at intervals of 5-20 years to sustain lower evapotranspiration. Using the metric of cumulative precipitation minus evapotranspiration (P-ET) during multi-year dry periods, we found that forests in the study area showed little evidence of past moisture stress; however, more-severe or sustained drought periods will push some lower-elevation forests in the area studied toward the cumulative P-ET thresholds previously associated with widespread forest mortality in the southern Sierra Nevada. 
Click the links below to download resources about the CECS project.
Infographics
Handouts