The CECS team is developing the Natural Climate Solutions Toolbox (NCS Toolbox), a suite of powerful ecosystem data tools, to help land managers, scientists, and other interested stakeholders better evaluate and compare land management options for climate mitigation and adaptation in California. Current versions of available tools can be accessed below.
DataAtlas
DataBridge
Fire Progression Tool
Carbon Vulnerability Tool
DataAtlas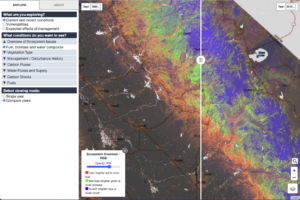 The CECS DataAtlas Tool is an online visualization tool that displays select data at 30-meter resolution statewide. Every data layer within this tool is an original CECS product created using the CECS DataEngine. The DataAtlas is useful to get an overview of ecosystem conditions, compare years, forecast general outcomes of potential management, and identify areas of interest for further analysis using the DataBridge. This tool can be useful for professionals, the general public, and even K-12 students.
Explore the tool online: https://cecs.ess.uci.edu/data-atlas/.
DataBridge
Fire Progression Tool
Carbon Vulnerability Tool