By: Jaquelyn Lugg, UC Merced
While scientific advances have the power to inspire us, the challenges presented by climate change can still feel insurmountable sometimes. Here in California, for example, communities are bracing for another potentially catastrophic wildfire season, all while blazes sparked last year are still smoldering. In the face of seemingly unrelenting crises, it feels essential that we arm ourselves with not only scientific knowledge but also the hope and belief that we can make a positive difference.
That's why UC Irvine graduate students and CECS researchers Shane Coffield, Nicole Hemming-Schroeder, and Carl Norlen volunteer their time with CLEAN Education, a nonprofit founded and run by UCI graduate students since 2009. CLEAN connects researchers with elementary and middle school classrooms to supplement existing science curriculum and teach students about climate science in a way that empowers them to act.
"I participate because it helps raise public awareness about climate change issues, and because it's part of my responsibility to give back to the community and empower others to become scientists," explained Coffield, a PhD student in Earth System Science at UCI.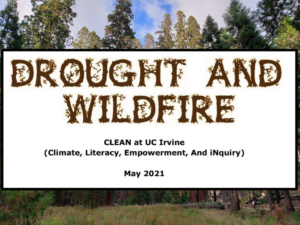 Volunteers with CLEAN present monthly climate lessons to 6th graders at MacArthur Fundamental Intermediate School in Santa Ana, CA. Lessons cover topics ranging from clean energy to paleoclimate, and they combine science with the tools and encouragement students need to advocate for solutions like transitioning to clean energy sources. This spring, Coffield and Hemming-Schroeder delivered an interactive lesson drawing on their CECS research, including how scientists study California ecosystems at large scales and the connections between climate change, drought, and wildfire.
The positive impacts of CLEAN's work in classrooms to educate and empower students don't stop at the middle schoolers. Coffield says he benefits, too.
"This outreach allows me to have an immediate and local impact," he explained. "It also re-energizes me about my own research, and it's great science communication practice."
Educators using Nearpod can access the presentation here.