Over the course of the Summer 2020 CECS Internship, the science communications intern team was tasked with creating a variety of materials to share the core issues addressed by the CECS project. These included a one-pager, an infographic, a brief explainer video, which all emerged from a completed Message Box, the communications tool developed by COMPASS.
Beyond these more traditional media, the team sought to do something different, using a medium that could reach a distinctly different audience and allow for more creativity.
Enter TikTok.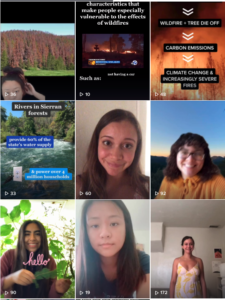 The social media platform, which features short-form videos, has become wildly popular in the United States over the last several months, especially among young people. On TikTok, users add special effects, stickers, music, and more to create videos on just about every topic, from viral dance trends and practical jokes to short explainers on current events and beyond. Scientists are finding their place on the platform, too.
The CECS Intern team saw TikTok as a prime science communication opportunity, particularly given that you don't need a lot of followers for your content to be seen by other users, unlike other social media platforms. What's more, it provides a way to talk and think about science differently and share it with friends, family members, and strangers who might not otherwise encounter, for example, a discussion of the effects of catastrophic wildfire on the water we drink.
Interns created videos to introduce the project, themselves, and their core topic areas: carbon sequestration in forests, tree die-off, climate resilience, forest management impacts on water, and the vulnerability of minority communities to forest fires. You can watch them all at @cecsinterns.
Ready for more #SciComm? Check out the other products created by the CECS Summer 2020 Interns here.